* ESC - закрити вікно пошуку
fonts
Font that identifies russian letters with traces of bullets
22.11.2022
In Ukraine, a social company called "russian bullet" was created, which shows the russian alphabet as traces of russian bullets. This was reported on the site of the font developer provid agency.
The Cyrillic font for the letters of the russian language does not contain the usual signs, instead the creators used graphic bullet holes from photographs taken in the de-occupied territories. Each letter is a trace of russian bullets that hit houses, cars and sights.
Vlad Galyapa, creative director of provid, commented on the idea: "russia communicates with us in the language of violence and aggression. Gunshots, explosions, firing — this is the russian language today. Every "not everything is that clear", every "we need to understand their position", every call for appeasement, lifting of sanctions or continuation of economic cooperation with russia is translated into russian as gunshots, explosions and destruction in Ukraine. Therefore, if there is a language, there must be its graphic embodiment — a font. And references for such a font, unfortunately, turned out to be plenty".
The agency offers to use the new font freely to create creative or informative materials: "Online resources that still have a russian-language version of the site can easily install it for themselves in order to display the russian language "correctly", this can be a way to draw attention to the change in language policy before deactivating the russian version, or simply a tool for expressing one's own position".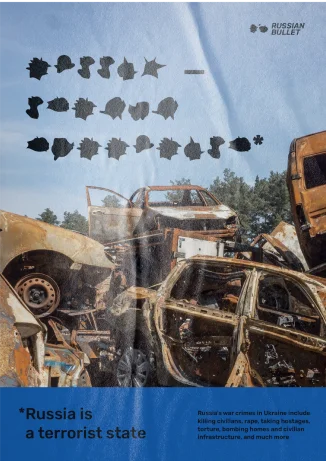 You can download the font here.
Check it out: Fonts for export: the most interesting Ukrainian fonts that the world should know about
This publication is sponsored by the Chytomo's Patreon community
the more you read, the greater the possibilities